By Francis J. "Red" Grandy

Born on Jan. 26, 1922 on my family's ancestral farm in the town of Russell, N.Y. and, until the age of 14, most of my life was passed attending a one-room schoolhouse and helping my father run our dairy farm.

After graduating from high school I worked at a wire mill in Rome, N.Y. until joining the Army Air Corps in 1942. After 4 years in the service I enrolled at the University of Southern California to study cinema and still photography. There I met Doug Kigour who ran the school's commercial photo department and was hired as a student photographer at $1.00 per hour. Doug taught me how to shoot news and feature photography and convinced me to use the name "Red" as a nom de plume for professional reasons. This experience qualified me as a fairly competent photojournalist.
I had a chance to go to Europe to work on a Masters in cinema after graduating from USC in 1950. While there I accepted a job as a photographer for the Armed Forces European Edition of the Stars and Stripes newspaper.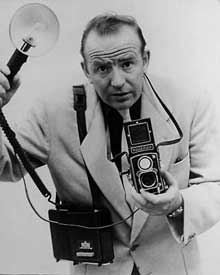 Red and his sidekick
Four months later I made a photo of a very surprised General Eisenhower when he was told that President Truman had fired Gen. MacArthur. The picture was published all over the world and won almost every prize except the Pulitzer as News Photo of the Year.

17 days later I shot the reunion of Robert Vogeler and his wife in Vienna when Vogeler was released after seventeen months in a Hungarian jail for spying. This was also published worldwide. Associated Press named it the 2nd best news photo of the year 1951 after the Eisenhower photo.
Soon after I was made Chief Photographer of the newspaper, a position I held for the next 35 years. During this period I had many successes in getting pictures, often under very difficult circumstances. Many times the story behind the picture was more interesting than the story itself.

Since we covered an area between Pakistan and Iceland we found stories in a mélange of locations. Most of the time we were only a small staff of 6 photographers. In spite of our small size we competed in the annual Kent State Newspaper Photo Contest during the last four years of its existence against nearly all-major US newspapers, many of them with staffs of 30 or more photographers. It was a contest where each newspaper sent its 20 best photos of the year to compete. During those four years we won 2nd place 3 times and first place in 1960.

Robert Vogeler
and his wife in Vienna
During this period we accumulated over 144,000 stories for the European Edition of The Stars and Stripes, which are at this time still stored at the old headquarters in Griesheim, Germany. The files are all documented in logbooks and cross-indexed in card files for easy access. This accurate and comprehensive documenting of the work of the many photographers who contributed to the history of the Cold War years in Europe is due to the dedication of our German secretary, Erna Stanley.

Presently many of these photos may be viewed and purchased through the Stars and Stripes website by going to estripes on the net and searching under Archive Photo of the Day. Images from every photo presented since 1 June 2003 may be viewed under "Browse our Photo Calendar."

These photos may be purchased by going to the Pictopia Affiliate shop.